Web Designer Shopping Cart
If you are a website designer, web developer or content creator for an online store, the Site Store Pro Web Designer shopping cart is a powerful and secure e-commerce solution with complete design freedom.
The Site Store Pro Web Designer version is geared towards web-designers who use design-include files in their site structure and want an advanced cart that can be integrated easily into their custom layout.
FAST DESIGN INTEGRATION!
Unlike hosted shopping carts, Site Store Pro does not limit you to a pre-defined set of design templates and can be integrated seamlessly into any site design. Using your preferred HTML editor such as Visual Studio Code, NotePad++ or Dreamweaver, you can quickly apply your custom site design to the included shopping cart files and launch your online store in record time!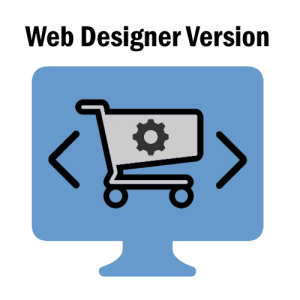 Web Designer | Developer Note: If you are using Dreamweaver for your web design software and use .DWT files for your layout management, please download the Dreamweaver Shopping Cart Version which uses Dreamweaver template files for updating the general site design and layout instead of design include files.
What's Included:
Complete Sample Store That Can Be Modified To Match Your Designs.
Tons of shopping cart features pre-coded, tested, proven and ready to run on your server.
Complete Web-Based Administration System To Manage The Store's Products, Settings, Discounts, Shipping, Checkout, etc.
Download the cart, install it on your hosting account, apply your website design, enter your products and store settings through the feature-packed admin area and start selling!
Site Store Pro has been a proven, stable and secure e-commerce solution for thousands of satisfied merchants since 2006. (See Release History Of The Cart)
Do you use Dreamweaver with .dwt template files in your site design? Check out our Dreamweaver shopping cart.
Don't want to do the initial integration of the shopping cart into your site design? If you want to focus on your store setup and site content, we provide free design integration into your existing website with our paid support plans!