The Evolution Of SiteStorePro.com
Last week we launched the new SiteStorePro.com website and while we were rolling it out, one of our designers asked how many different site designs we have had over the last 10+ years?
(The answer was 6  ...including the new design which we launched on May 6th ).
We then started discussing how much has changed in web-design and Internet technologies over the last decade. We have seen ecommerce websites evolve from fixed-width sites with table-based designs to fully-responsive CSS sites that works on all devices.  Web 1.0, Flash, Web 2.0, HTML5, On-Demand Content, ... the list of  past and "new" web-technologies goes on and on... Since so much has changed,  not only in the Site Store Pro shopping cart features but also with our own website, we decided it would be fun to compare our older site design's to where we are now. Well... retrospectively reviewing the evolution of SiteStorePro.com's design history was not only quite emotional for those of us who have been here since the beginning, but it was also quite an enlightening experience. Reliving all five previous site designs showed us that, although we have made many mistakes and missteps, we can truly appreciate how much we have learned over the last 10+ years. However, listening to the humorous and sometimes brutal comments made by our current staff about the past designs was both hysterical and humbling. The comments and critique ranged from:
"That design is an abomination!"
(From a designer who was still in middle school when that design was live)
to...
"What were we thinking?"
to..
"Ahhhh... I miss that one...".
For all of you that have been with us since the beginning (thank you!),  this will be a nostalgic journey into the history of Site Store Pro. To everyone else who appreciates how web technology changes... take a walk down web-design memory lane with the evolution of SiteStorePro.com.
December 2005- February 2010
The original SiteStorePro.com site was a Dreamweaver designed website that was table-based and used sliced Fireworks (rollover) images for the navigation menu. The entire site was created using Dreamweaver, Fireworks, Flash and Photoshop. The site technoloy was .ASP and was powered by a MSSQL Server back-end. The site ran our original ASP cart for the shopping cart functionality. (We didn't even have an PHP/MySQL cart version at that time!) Looking back, we spent a minimal amount of time on our site design during that first 4+ years.  We were so focused on developing new cart features, creating the cart's help system and rolling out new releases every 6 months that the website content was basically static until the first redesign in 2010. (We all agree that our first redesign was done more out of embarrassment by our outdated website than from necessity for new content or usability... not the best reason for a site redesign!) The site width of the original site was fixed at 765 pixels!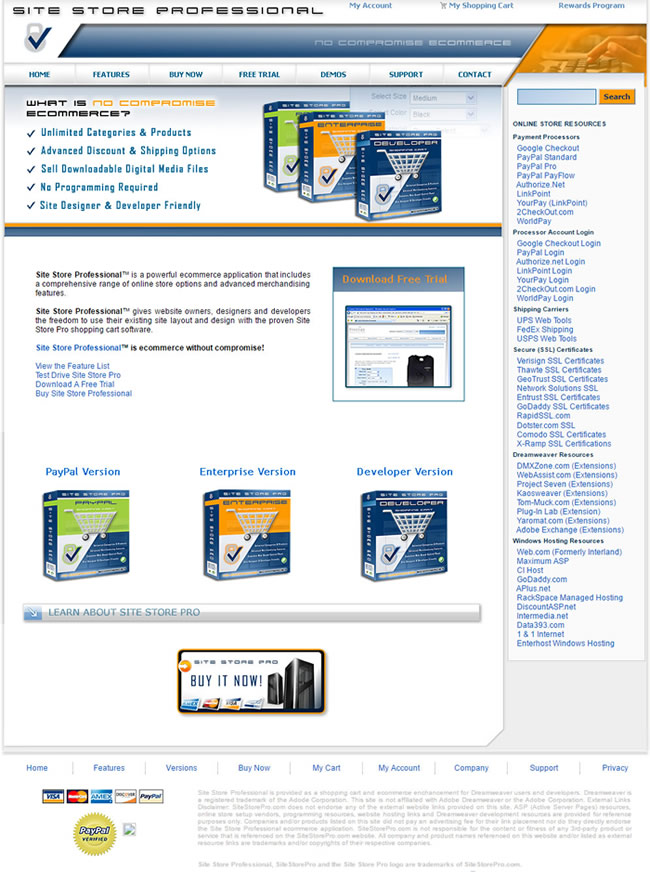 March 2010 - December 2011
Our "second" site was another Dreamweaver design that used a CSS menu system but the site was still table-based. This version was universally disliked by everybody since the menus were not that friendly, the content was cluttered and disorganized and the site text was general too small and hard to read.  Live and learn! This site was a drastic style change from the original SiteStorePro.com as well as a departure from our original corporate color scheme. We also stopped using "Site Store Professional" and shortened it to Site Store Pro on the website and in most of our help documentation. We also abandoned the product "box" graphics for the different cart versions since we had many people comment on how it was ridiculous to include a physical box picture for a digital-only product!  (we actually thought they looked cool and most of us were sad to see the "fake" boxes removed from the site...) The site width was fixed at 950 pixels.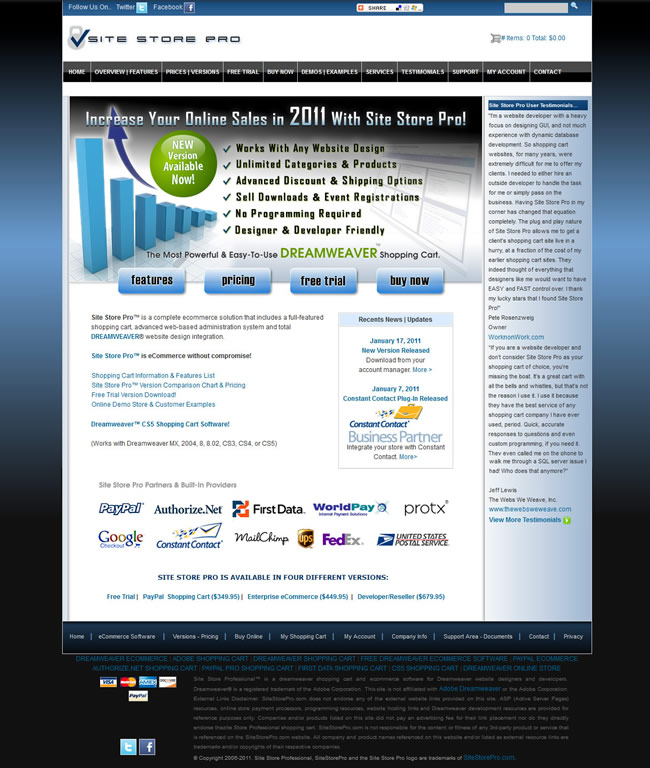 January 2012 - January 2014
Our "third" Dreamweaver-based SiteStorePro.com design. This version was not table-based (finally) and used CSS (divs) throughout. This was not a responsive site however since the mobile version of the site were unique pages. (User was redirected to a mobile-friendly version of the page when viewed on mobile devices). After abandoning the orange highlights from our original branding color scheme in version "2" of the site, we brought that back in version "3". The one element we could never agree on internally was the social icons on the top right of the site design. We switched those out with different icons at least six times over the course of two years and they never looked right. The icons in the screenshot below were the ones that everyone despised (besides our lead designer of course!) The desktop site was fixed at 1000 pixels. Mobile version of the pages were fluid (100% width of device).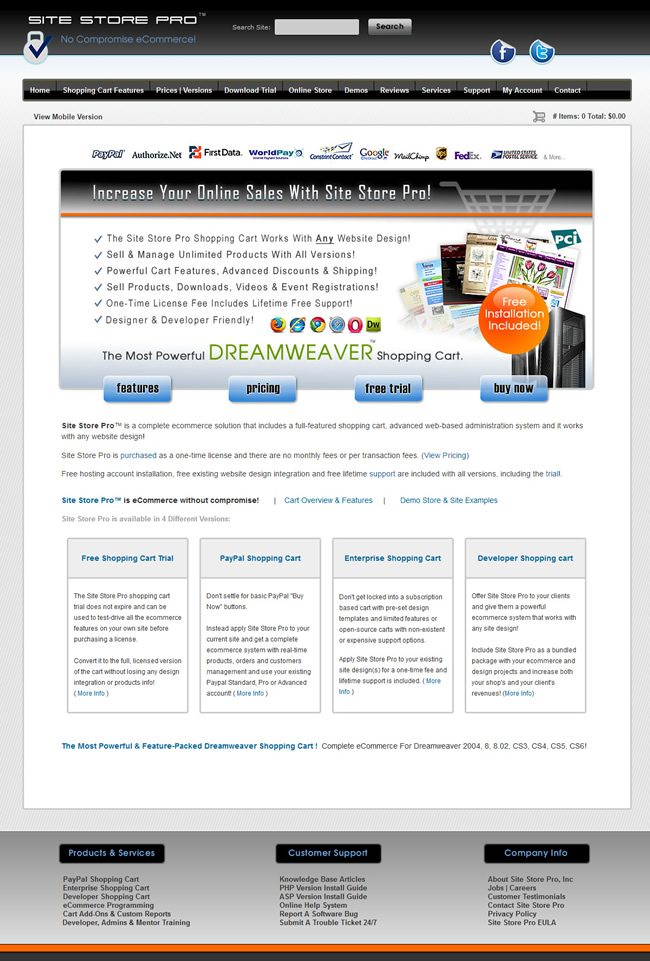 February 2014 - December 2014
Our "fourth" and final Dreamweaver based SiteStorePro.com site design. This design was fully responsive and used the same CSS responsive layout that was later released to the public as the sample store responsive design. (The same layout/CSS that is currently in the Dreamweaver and Designer carts.) . The branding on this design was not a great success since many users thought the "Dell" like server grid background and various images of servers around the site didn't fit into the overall mission of Site Store Pro. (Many users thought we were a hosted cart solution and not a self-hosted cart due to the "server" theme). We also changed our corporate logo with this site launch for the first time since the company was founded in 2005. Feedback on the new logo's design was luke-warm. The consensus view of the new logo was that it was "blah" so we replaced it with a snazzier logo exactly one year later. Even though we had been a PayPal approved Partner for years, this was the first design where we actually promoted that status. Site width was fluid since it was a responsive design. (Max width 1070 pixels).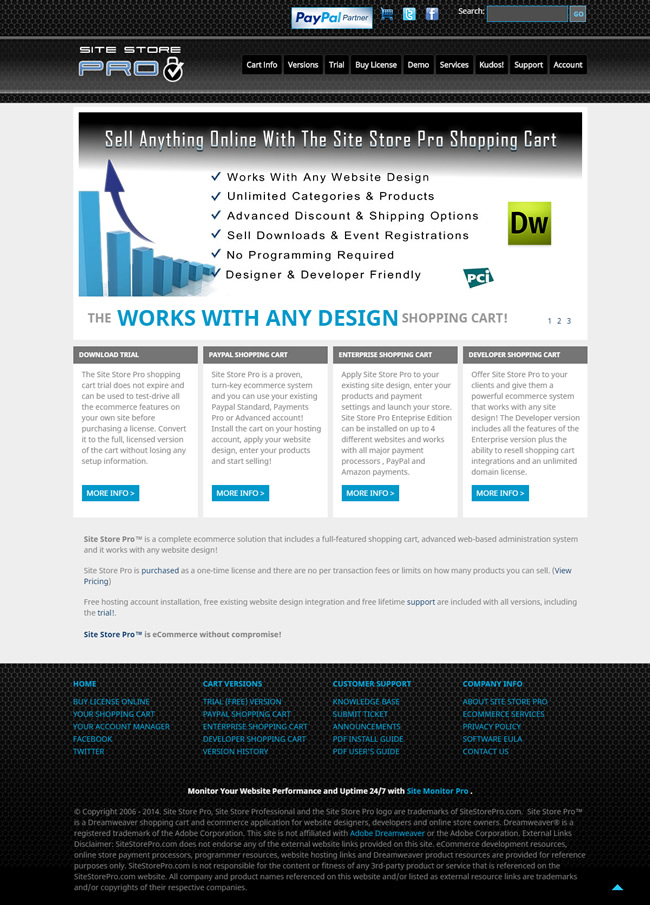 January 2015 - April 2016
To coincide with the launch of our
WordPress shopping cart plugin (WPCartPro)
, we decided to launch our own site in WordPress for the first time.  The site ran the WPCartPro plugin and was skinned using the
AccessPress Ray Theme
. It was an extremely difficult decision not to use Dreamweaver for our own site design and management. After all, we live, breathe and promote Dreamweaver! Since we have always been, and still are,  primarily a
Dreamweaver-based shopping cart
, we were all very conflicted at the thought of abandoning our bread-and-butter design environment and using WordPress on our own site. However, we grew to like the change to WordPress and since we work everyday on client's Dreamweaver-based sites, the guilt of not using DW on our own site slowly faded. (some faster than others.) On our first WP themed site, we toned down the server (hardware) images and only kept the "server grid" header background image from the previous design and the server images on one slide on the home page. We also launched our new (and current) logo to replace the logo redesign from a year earlier. In hindsight, launching a WordPress site alongside the WPCartPro shopping cart launch was a very tough decision by the company principles but the right thing to do.  We needed to show our customers that both platforms (WordPress and Dreamweaver) are both equally suitable to use and run our shopping cart. Site width was fluid since it was a responsive design. (Max width: 1200px).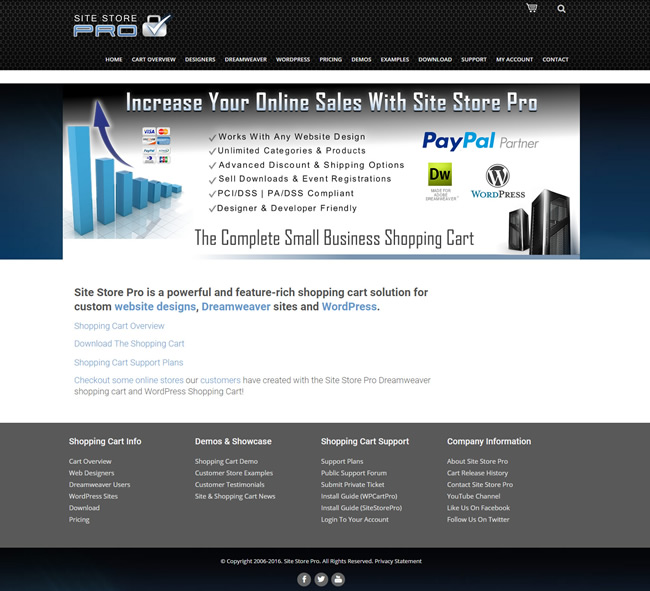 ---
May 2016 - ....
The current site uses WordPress for content management, our WPCartPro plugin for the shopping cart and the
Enigma WP Theme by Weblizer.
Now that the
WPCartPro
cart has been out for a while, we debated on whether or not to switch back to a Dreamweaver-based design. However, our lead designer convinced us to stick with WordPress for another site version and we are very pleased with what he and his team created with the latest design. They also made tons of updates on the content pages. Many of the general info pages had not been revised in quite a long time. The new site contains much more information on the different cart versions plus a streamlined KB | Support area.
---
We hope you enjoyed this look back into the history of SiteStorePro.com!
Although our main focus has always been and will always be, supporting our customers and developing new features for the shopping cart, we will try to stay current with our own site design as well. We are constantly amazed by how you use our cart solutions on your own websites and how you promote your brand using our products and services. Thank you for the last 10+ years and we will continue to evolve on our end to meet and exceed your e-commerce requirements. Enjoy our latest "new" site design... who knows when we will be replacing it with the next big thing in web-design! Best regards, The Site Store Pro Development & Support Teams