Customer Search in Web-Based Admin
To locate a specific customer, use the 'Customer Search' feature in the web-based admin.  The admin can use the advanced customer search feature by clicking on the 'Customers' tab and then 'Find A Customer (User)'.
The customer database can be filtered by Customer Type (Retail Or Wholesale), Customer Status (Verified Or Non-Verified), Last Name, First Name, Company, Email Address, Shipping City (Registration City) , Shipping Zip Code (Registration Zip Code) and Registration Date Range.
Note: By default, the 'Registered Between' start date will be one year prior to today. If you are searching for a customer that may have registered over a year ago, make sure you modify the 'Registered Between' range to a longer time period.
Below is a screenshot of the customer search form: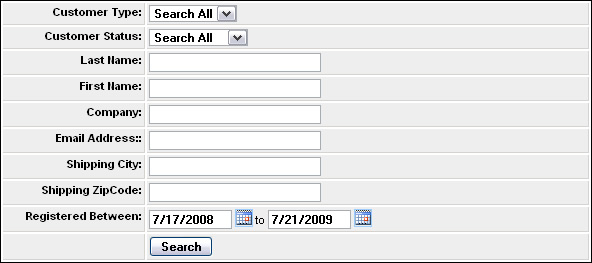 After the customer search form has been submitted, the search results will be displayed. Click on the specific customer's record to view their profile, manually verify their account, assign a preferred discount, assign a preferred user message, view their customer's order history and edit their registration information
Below is a sample customer search results page screenshot: