Email Server Setup – SMTP configuration
Site Store Pro contains an advanced email system where customer registration, order confirmation messages and other store-related emails are managed through a point-and-click system.
The Site Store Pro email system gives the store admin the power to completely configure store-related emails without any custom programming. However, the email system must be setup to use the correct STMP server configuration for your specific website hosting account, dedicated server or development server.
The email server setup (SMTP SERVER CONFIGURATION) is located in the web-based admin under the EMAILS section. To access the SMTP configuration area, click on the 'Emails' tab on the top navigation bar and then click on the 'Set Active Email (SMTP) Server Component (CDONTS, CDOSYS, ASPEmail, etc)' link at the bottom of the page.
The majority of Windows-based webservers will use CDOSYS or CDONTS and may not require changing the default configuration. However, some webhosts will require you to enter the server address, username, password and port number to send messages through their SMTP server. If you are unsure if your webhost will require login information, consult your webhost support for the IIS SMTP login information for your windows hosting account.
STMP Server Configuration Screenshot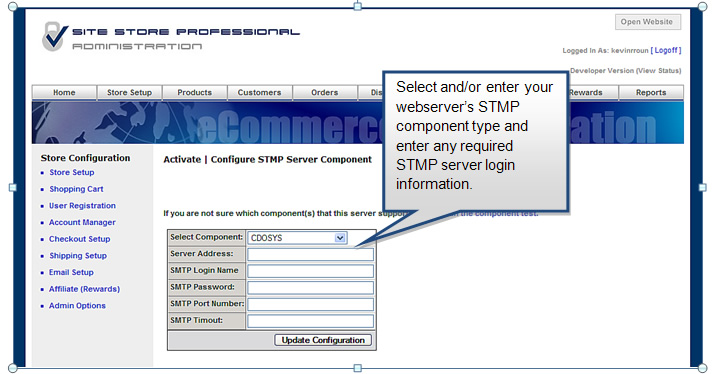 After you have set the SMTP Component type and login information (If required), click on the 'Update Configuration' button.
Click here for information on testing your email server setup.